Advantage
Excellent Security - provides constant security against trespassers, pilferers and animals.
Long Term Durability - stands up to rugged conditions and requires minimal maintenance
Easily extended - additional fencing can be matched with the original for future extensions.
Readily relocated - chain link fences have a high recovery rate, and can be relocated as the extension of premises demands.
Highly flexible - can be easily fitted around building columns, roof trusses, air conditioning ducts and hot water services.
Galvanized & Life-max wire - ensures long life and low maintenance.
PVC coating - chain link wire is available in black or green to blend with the environment
Made of steel core wire for strength and durability
Black extruded PVC coating over steel for attractive appearance
Galvanized steel helps prevent rusting
Top and bottom of fabric ends are bent (curved) to eliminate sharp edges
2" woven diamond mesh holes
One roll can cover 50 feet when stretched
12-Gauge wire before vinyl coating
For residential and commercial use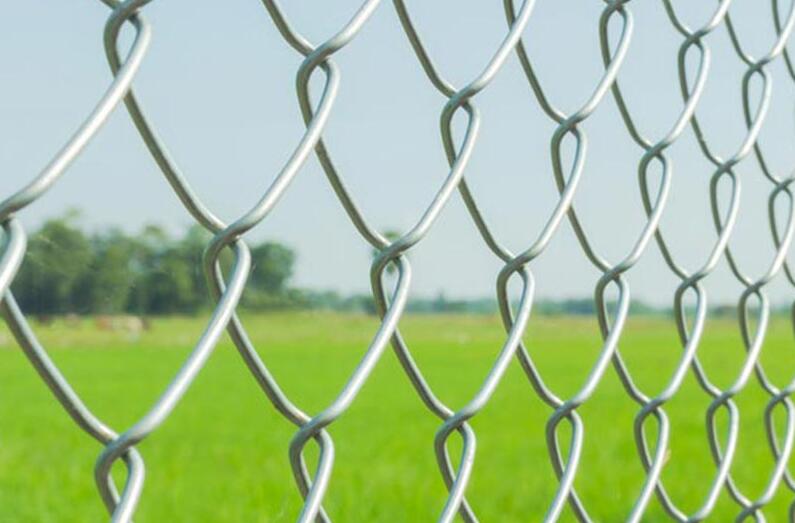 What is vinyl coated chain link fencing?
Vinyl coated chain link has fencing style and durability. The best chain link fences have galvanized wire and vinyl. The vinyl provides another layer of protection for the galvanized steel.
Vinyl also improves the appearance of the chain link. For example, the black vinyl coating helps the wire disappear into the landscape.

Vinyl coated (PVC) hook and loop fencing is an excellent choice for residential fencing projects. This option allows customers to choose fencing that accentuates the color of the siding, roofing and trim on their homes and businesses.
Many customers will also use decorative aluminum or vinyl fencing for the front of their property and more economical hook-and-loop fencing for the backyard. The smooth nature of this material makes it a safe backyard to play in. Another benefit of this material is that the core is galvanized and then the material is also extruded with PVC, which adds a layer of protection to the wire. This adds to the longevity of the material.
Specification
Vinyl Coated Chain Link Fence
Material
Galvanized iron wire or PVC coated iron wire
Surface Treatment
PVC coated, PVC sprayed, electric galvanized, hot dipped galvanized
Wire Thickness
1.0-6.0mm
Mesh Opening
20x20mm,50x50mm,60x60mm,80x80mm,100x100mm etc
Mesh Height
0.5m-6m
Mesh Length
4m-50m
Post & Rail Diameter
32mm, 42mm,50mm,60mm,76mm,89mm etc
Post & Rail Thickness
1.5mm,2.0mm,3.0mm,4.0mm,5.0mm etc
If you are interested in our products, please feel free to contact us.