Hexagonal Gabion Mesh
Hexagonal gabion mesh also named hexagonal gabion reno mattress, hexagonal wire mesh, hexagonal gabion wire mesh hexagonal holes of the same size. Its material is mainly low carbon steel. Depending on the surface treatment, hexagonal wire mesh can be divided into two types: galvanized wire and PVC coated wire. The wire diameter of galvanized hexagonal wire mesh is 0.3 mm-2.0 mm, and the wire diameter of PVC coated hexagonal wire mesh is 0.8 mm-2.6 mm. Hexagonal wire mesh has good flexibility and corrosion resistance, and is widely used as gabion mesh for protecting slopes. According to different applications, hexagonal wire mesh can be divided into chicken wire mesh and slope protection mesh (or gabion mesh), with the former having smaller mesh holes.
Specification
Materials: Quality Galvanized Wire, Galfan Wire etc.

Sizes: 1x1x0.5m, 1x1x1m, 2x1x0.5m, 2x1x1m, 3x1x1m, 3x1x0.5m, 4x1x0.5m, 4x1x1m, 6x2x0.3m, Custom orders available.
Size: 60*80mm, 80*100mm,100*120mm, 120*150mmCustom orders available.
Surface Treatment: Finish can be hot-dipped galvanized, galvanized aluminum alloy or PVC coated, etc.
Galvanized hexagonal wire diameter: 0.3 mm – 2.0 mm.
PVC coated hexagonal wire diameter: 0.8 mm – 2.6 mm.
Aperture (inch): 5/8", 3/4", 1", 1-1/4", 1-1/2" and 2".
Wire gauge: 18 G, 19 G, 20 G, 21 G, 22 G, 23 G, 24 G, 25 G and 26 G.
Width: other specifications are available for customers' requests.
Mesh application types: chicken wire and slope protection wire.
We guarantee high quality gabion mesh, make sure all our products are flat surface, refined aperture, strong structure and corrosion-resistance to protect the dam and rivebank.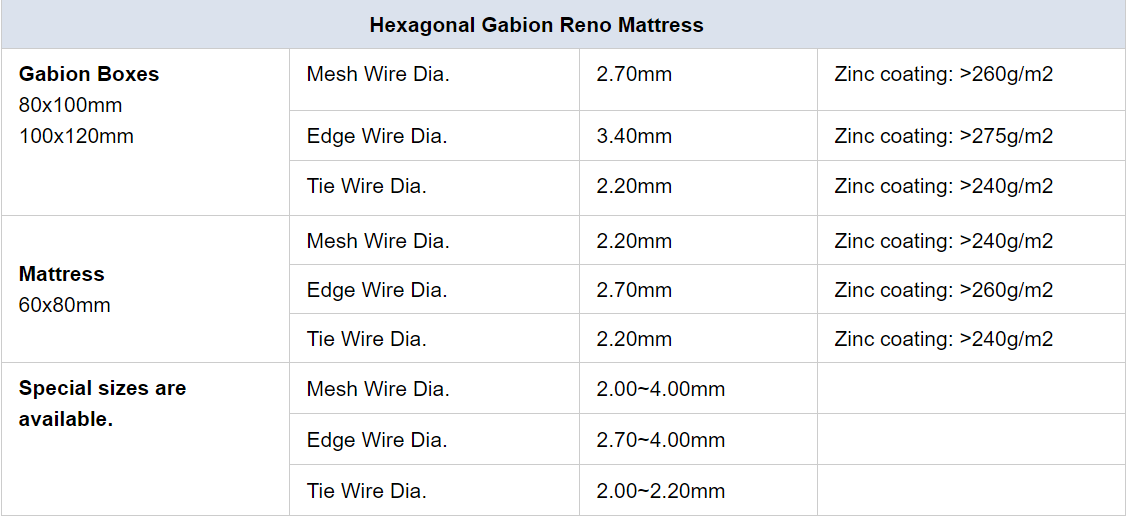 Features.
Simple construction, no special technique required.
Strong corrosion resistance and good weather resistance.
Good stability, not easy to collapse.
Good elasticity, can increase the cushioning force of objects.
Easy to install and save transportation cost.
Long service life.
Application.
Slope protection.
Bank protection.
Stair protection.
Mountain protection.
Chicken wire.
Gabion mesh.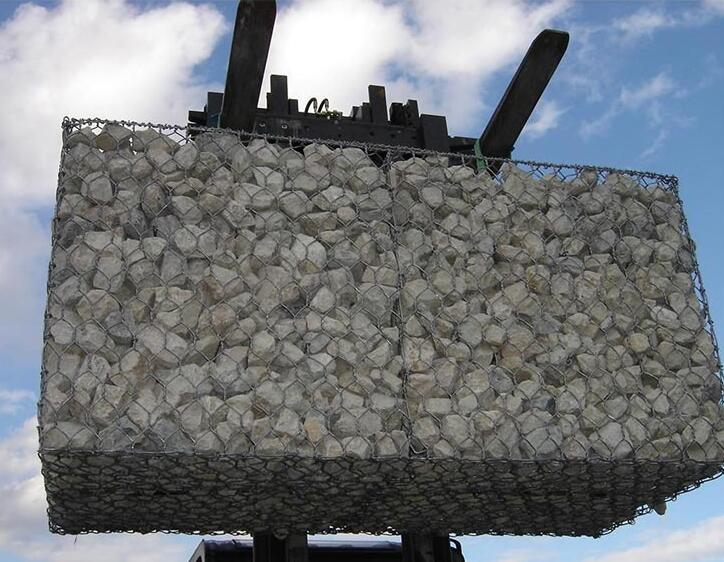 Packaging.
Chicken wire: in rolls and plastic film.
Gabion mesh: in bundles and pallets.
Gabion Basket are made of low carbon steel wire with high corrosion resistance, high strength and ductility, or steel wire coated with plastic PVC/PE, which are woven mechanically.
Gabion Basket also named Gabion Box, Stone Cage Mesh, is a new kind of ecological grid structure successfully applied to water conservancy project, highway, railway engineering, dike protection projects, realized the organic combination of engineering structure and ecological environment well. At the same time it has its own advantages compared with some traditional rigid structure, so it has become the first choice structural style worldwide for protection of river bed, landslide,debris flow and rock fall and environment protection.
Gabion baskets specification size
Material
Galvanized low carbon steel wire, PVC coated wire
Wire diameter
Mesh wire:2.0mm-4.0mm
Selvedge wire:3.4mm, 3.8mm
Lacing wire:2.2mm, 2.5mm
Mesh size
60*80mm, 80*100mm, 90*110mm, 100*120mm
Gabion size
1*1*1m, 2*1*1m, 3*1*1m, 4*1*1m, 6*2*0.3m
Notes:Gabion Baskets making can be made according to clients' requirements.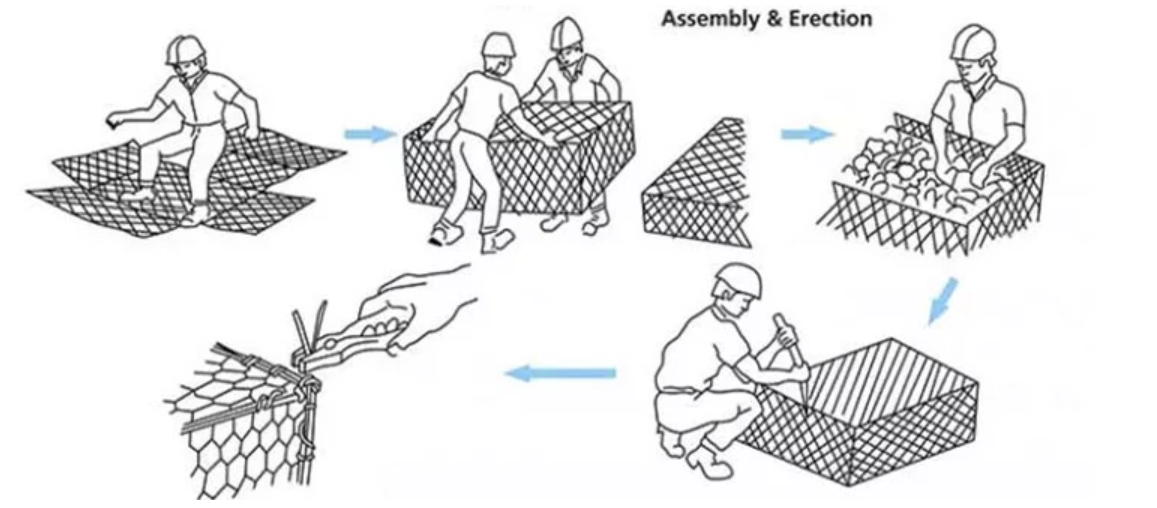 If you are interested in our products, or would like more information, please contact us.