Specification
Materials: low carbon steel wire, stainless steel wire, iron wire.
Sizes: 1x1x0.5m, 1x1x1m, 2x1x0.5m, 2x1x1m, 3x1x1m, 3x1x0.5m, 4x1x0.5m, 4x1x1m, 6x2x0.3m, Custom orders available.
Cage Size: 60*80mm, 80*100mm,100*120mm, 120*150mm, Custom orders available.
Surface Treatment: Finish can be hot-dipped galvanized, galvanized aluminum alloy or PVC coated, etc.
Knitting method.
Normal twist (double or triple twist).
Reverse twist (double twist).
Type of galvanization.
Galvanized before weaving.
Galvanized after weaving.
Hot dip galvanized before weaving.
Hot dip galvanized after braiding.
Two standard zinc coatings for hot dip galvanizing.
Plain zinc coating: 50-60 g/m 2.
Heavy zinc coating: 200-260 g/m 2 with a maximum zinc coating of 300 g/m 2.
PVC coating colors: green, black, gray, orange, yellow, red, white, blue.
The nominal thickness of PVC coating is 0.50 mm to 1.00 mm.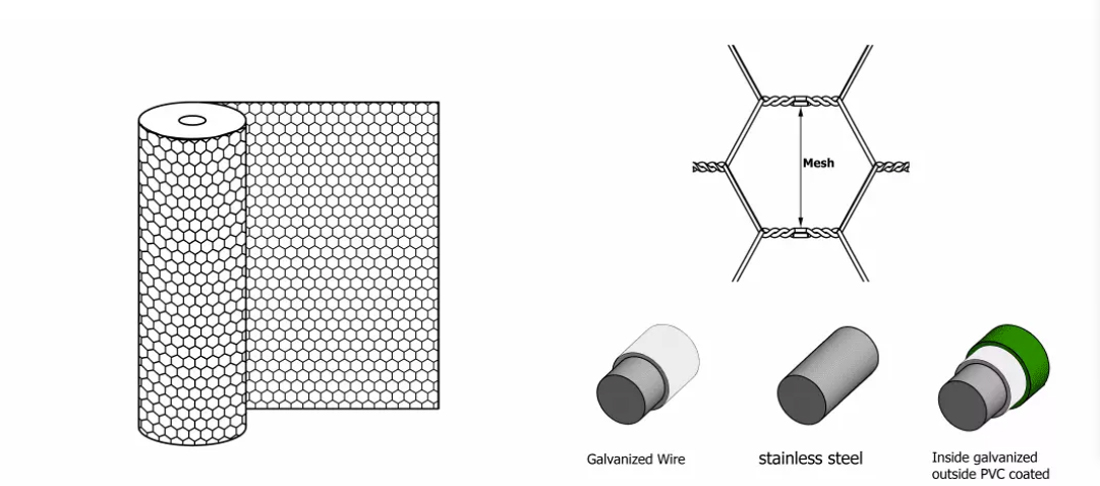 Features
Insulation, fire resistance, and durability.
Resistant to corrosion, rust, oxidation and scouring.
Compared with traditional galvanized, hexagonal mesh has good corrosion resistance.
Stable structure, smooth surface, uniform mesh and high tensile strength.
Easy to unfold and easy to cut.
Easy to transport and install.
Ensures good air flow for easy feeding of poultry by feeders.
Allows vegetation to be regenerated into gabion mesh or rockfall mesh.
Flexible all-around and does not spread when broken.
Electro-galvanized wire mesh has lower cost and brighter color than hot-dipped galvanized.
Hot-dip galvanized hexagonal wire mesh has better corrosion resistance and oxidation resistance than electro-galvanized.
Galvanized before weaving has better rust and corrosion resistance than galvanized after weaving.
Galvanized and PVC coated hexagonal wire mesh has longer life and lower cost.

Applications
Hexagonal wire mesh has a wide range of applications, such as
Raising poultry or small animals such as chickens, rabbits, ducks, geese, fish, etc. The style can be fences and cages.
Protecting vegetables, flowers or small plants from poultry and small animals.
Fruit cages, defense against rats, birds, cats, dogs, squirrels and foxes.
Interior decoration, window screens, door screens, children's playground fences.
Arts, crafts and sculpture.
Sieving, filtering and mold control.
Fixing plaster, cement to roofs, walls, ceilings, floors or tiles to reinforce them.
Equipment and machine protection, highway fencing, tennis court fencing, road green space protection fencing.
Prevent rocks and debris from falling onto roads and railroads.
Used in gabions to control and direct water or flooding, also as retaining walls and channel liners.
16 gauge galvanized wire 1 inch mesh hexagonal fence for panel tennis and platform tennis wire.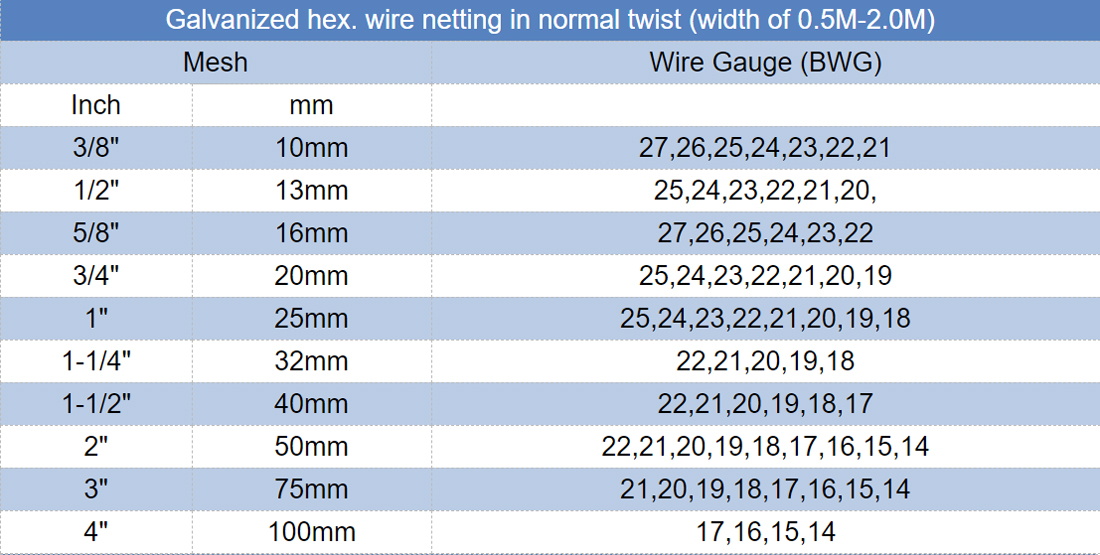 If you are interested in our products, or would like more information, please contact us.